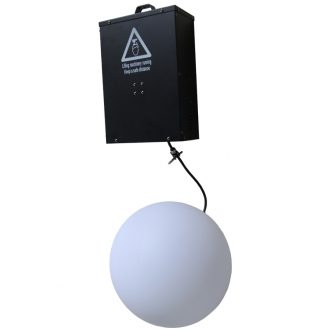 IM-LB120 3D Up Down 120W DMX RGB LED Lifting Ball
1) Voltage: AC100v-240v/50-60 hz
2) Total power: 120 W
3) Light source: 3Wx12pcs LED
4) Color: R, G, B linear infinite color options, can be linear transformation and colorful rainbow effect
5) Dimming: 0-100% linear dimming, has 16 bit precision fine-tuning
6) Stroboscopic: pulse strobes, asynchronous stroboscopic synchronization. Stroboscopic speed 1-25 times per second
7) Hanging weight: 3kg
8) Line length: 6 m (longest)
9) Speed: 1 meter per second (maximum)
10) Communication design: DMX512, sound control, Auto run(led ball)
11) DMX512 channel modes: 10 ch
12) Lifting host: 35 x 29 x 16 cm, weight: 6.35 kg;
13) Ball: 25cm in diameter, weight: 0.9 kg (Could select 25cm/30cm/35cm ball size)
Features:
1. LED type lifting ball has indoor use and waterproof type, widely used in the venue above do special effects with three-dimensional map, nightclubs, KTV.
2. The bottom ball body semi-transparent special plastic material, not easy to fracture, uv protection.
3. The ball USE high brightness LED lamp bead (R.G.B), wide Angle transmission, 360 ° full downy colour light.
4. The lifting system to the ball up and down, through DMX signal controller programming, according to the requirement to do different effect.
5. Lifts and ball independent packing, convenient installation.
Package:
1 x Lifting Host Machine
1 x LED Ball (25cm in diameter)
1 x Power Cable
1 x DMX Cable
1 x User Manual