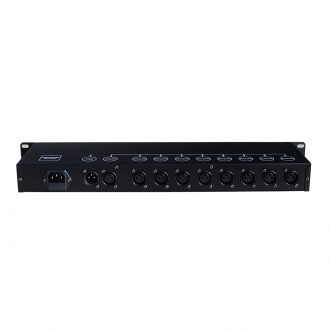 IM-AC006 8 Ways DMX Amplifier Splitter
DMX-8 Splitter is a DMX512 distribution amplifier. It is specially designed for connection of DMX receivers(dimmers, color changers, moving lights, etc.) in a star configuration. DMX-8 can surmount the restriction that single RS485 can only connect 32 sets of equipment. The multiple output optically isolated DMX512 distribution amplifiers have become necessary in many DMX512 systems.
DMX-8 provide total electrical ground isolation between different branches of the star. This greatly decreases problems with ground loops.
DMX-8 amplifies and refits the DMX signal, that it makes the DMX data transmission more reliable.
1) Input voltage: AC90V-240V,50Hz/60Hz;
2) Power rated: 15W;
3) DMX Ways: 8 Ports DMX512 Ways;
4) DMX Splitter Type: Input and output are with RS-485 rated;
5) Fully compliant to DMX512 specifications;
6) 3 pin XLR input and a passive loop through;
7) G.W: 2.5KG;
8) Size: 53x20x12CM/pc.