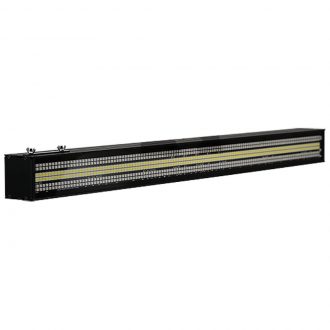 IM-ELST600 240pcs White LEDs and 480pcs RGB LEDs Crazy Strobe Racing Bar Light
1) Voltage: AC100~240V 50/60HZ
2) Power: 600W
3) Lamp beads: 240 5W 7575 LEDs, 480 0.3W RGB LEDs
4) Control mode: DMX, Auto, Master-slave, Sound control, with RDM function
5) Channels: CH4, CH13, CH36, CH96, CH105, CH168
6) Dimming: 16bit 0~100% linear dimming
7) Features: Racing Effect + Crazy Strobe
8) Working temperature: -30 degrees to 50 degrees
9) Strobe frequency: 1~30HZ
10) Appearance: Metal, Black Casing
11) DMX Connection: DMX in and out;
12) Power Conncetion: Power in and out;
13) IP rating: IP20
14) Size(L*W*H): 100cm*8cm*7cm
15) Weight: 5KGs
Plus Feature: Each Crazy Strobe Bar Light could connect and lock each other. Support to combine all the lights in one line.
Recommend:Super powerful brightness strobe effect, it could replace other strobe lights in the market at present. You could not regret to order this fixture.