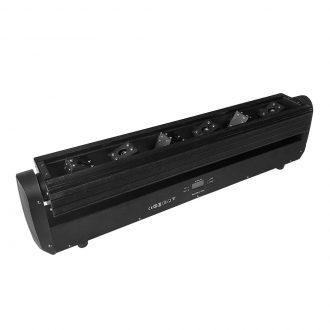 IM-RL6H200MW 200mW 6 Heads Red Laser Beam Bar Light Individual Control Racing Effect
1) Rated Voltage: AC100V~230V 50~60Hz±10%
2) Rated Power: 150W
3) Laser Source: Semiconductor Pump Laser
4) Laser modulation: TTL
5) Laser wavelength: 638nm
6) Laser power: 1200mW (200mW*6PCS)
7) Laser color: RED
8) Laser system: Precision stepper motor scanning system, the Y-axis swings 180 degrees, and the X-axis laser head can swing.
9) Laser effect: Laser Skynet beam performance, laser flow line effect, laser strobe effect, LED beam sensation, water strobe, etc.
10) Control mode: DMX512/Sound/Auto/Master-slave
11) DMX channel: 17 Channels Selectable
12) Use environment: Indoor
13) Applicable places: bars, KTV, performing arts, dance halls, hotel banquet halls, entertainment venues, etc.